I was once in a horrid management training course in which all kinds of moronic theories were marched out for us poor radio producers to memorize. Some of the management flavour of the month dictums included the 5 "T'"s of dealing with problem subordinates (Talking, Training, Teaching, something beginning with T, and Termination), the Pareto Principle, and one that actually stuck with me.
This was a little list on a flip chart with the words Why, What, How. In the context of the course, these words represented the theory that people who know How have to work for people who know What, and people who know What work for people who know Why. Now, there is probably a branded name for this principle and I know it still gets spun six ways from Sunday as a new enlightening tool, and like all of these things, it's a tad disgusting. But… the order is right. Even if you work alone.
Luckily for writers, and songwriters, and visual artists, the Why is usually taken care of. You "gotta use words", or that melody has just broken it's water, or the image that you alone see demands to be shared. As the John Mayer CD says: "Inside Wants Out".
The What is also covered automatically. Your natural bent is towards a particular medium, as is the output: a book, a CD, a painting. I still cherish the memory of holding a finished 10" reel of tape in my hand, (7", if truth be told).
Where this blog joins all the above is in the How.
When I imagined what the focus of this blog would be, I had a pretty good idea that it would be about How creative people do it. Not the techniques, or learned skills,  of their craft, but how they shoehorn their inspirations out into the external world. This is magic to me. My problem would be how to organize the content, the topics, etc., into something people could navigate easily.  I had my own How to deal with.
A lot of whirling thoughts went down into my notebook something like this: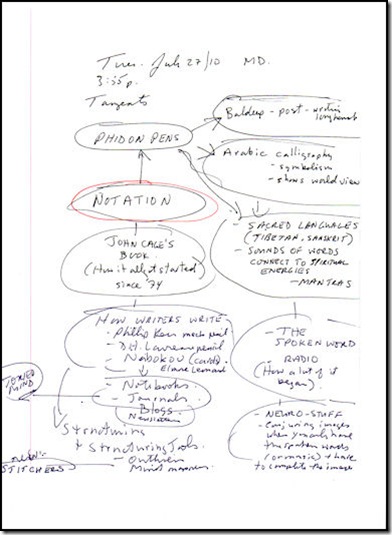 This is kind of a poor man's mind map. But, being out in the country with no electricity, it did fine.
Back at the ranch, I used a real mind mapping program and came up with this: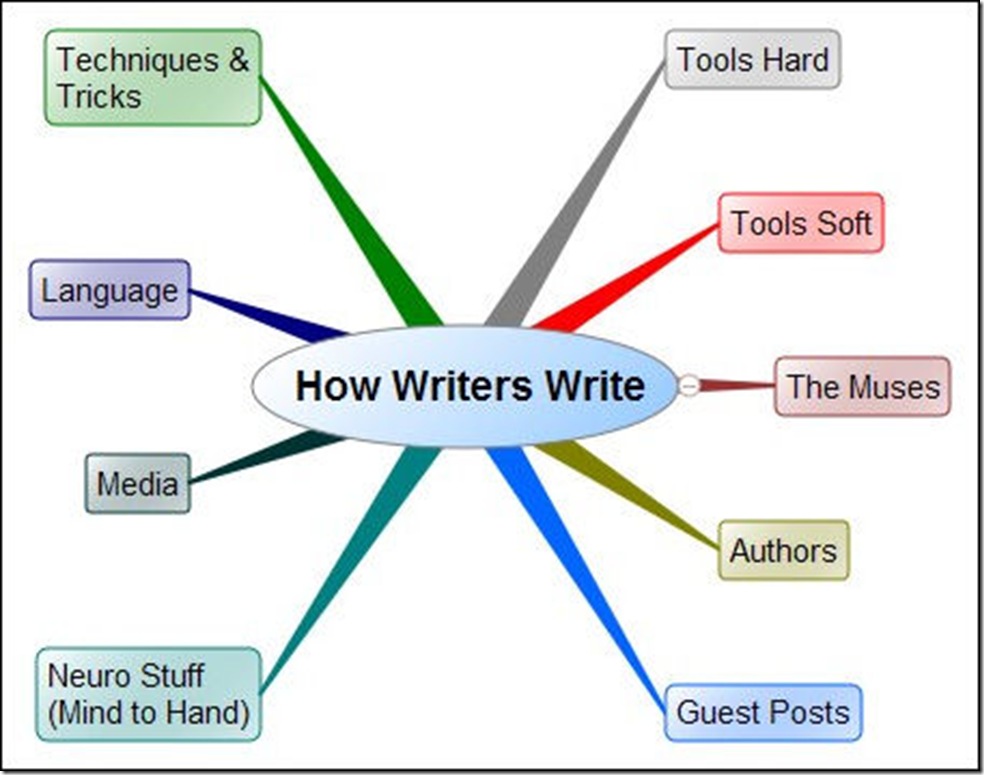 Beats your old to-do list doesn't it? At least it's a start.
Listening for today:
1. Pink-O Boogie – Ry Cooder fr: "I, Flathead"
2. There's A Rugged Road – Judee Sill fr: "Heart Food"
3. James – Pat Metheny Group fr: "Offramp"