I know so many people having birthdays this month. I was just looking back in my journal (now digital) and seeing what my first April entry was. It was on this date! 39 years ago! 39 – the age Jack Benny said he always was.
The entry for April 17, 1974, was a scanned image. No text.
It's a scan of an order slip. The kind waiters used to drop on your table in Chinese restaurants and on which you were expected to write down what you wanted for dinner.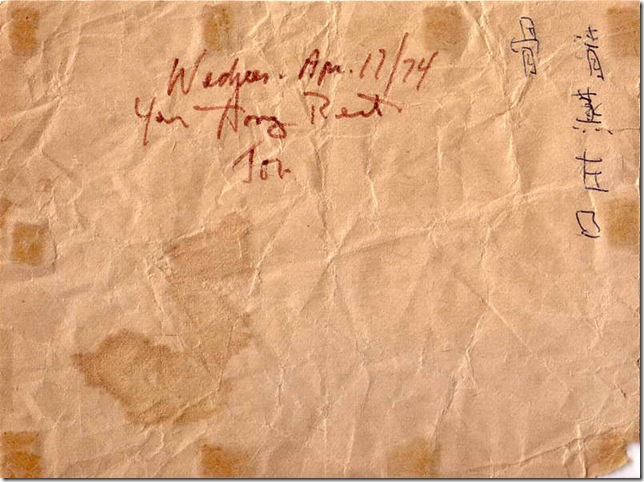 This one brings back some great memories of food and friendship and makes me laugh.
My girlfriend, Helena, would take me into these "hole in the wall" restaurants and introduce me to stuff that you'd never find on the English menus. Still won't.
The usually gruff waiter would slap down a piece of paper and a pencil and stalk off into the kitchen. Helena wouldn't consult me, but often say "you probably won't like this" and apparently write down an order for something mysterious. I don't think I was ever disappointed.
We lived in different towns in 1974. I was in my first year of university and she was in her last year of high school. So what was I to do if I wanted this great Chinese food and she wasn't around?
My solution was to carry around copies of these order slips in my wallet and produce them when served in a restaurant. It took more than one waiter aback that I nonchalantly handed him my order written out in Chinese characters. What I didn't know at the time was that the writing had a distinctly feminine style to it. More baffledom for the waiter.
The old technology dictated that I had to photocopy these slips. And in the early 70's, even photocopiers were not that easy to find.
That order slip is from one of the last times I saw Helena, but not the restaurants and the staff working in them.
One thing I learned is that there is a great loyalty from customers to the cooks and even the waiters in the Chinese restaurants of those days. Chefs come and go – waiters, too.
After Helena:
Last night I was sitting in my favourite hole-in-the-wall Chinese restaurant eating a dish that is not on the English menu. Most of what I order is not on the English menu.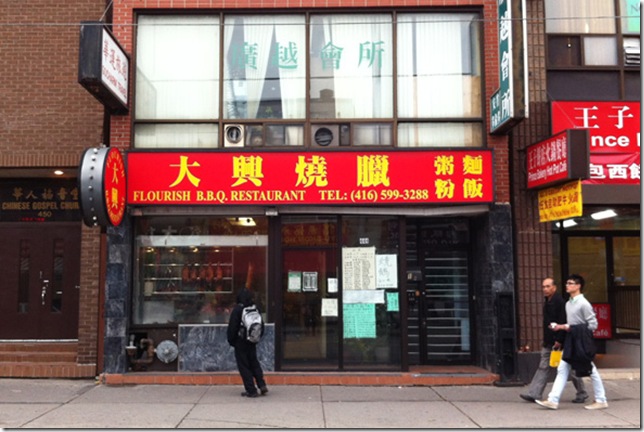 Not many Anglos come here. Not many Anglos know about it. Not that much has changed in 39 years.
The woman that runs this traditional BBQ restaurant always tries to talk me out of ordering what I want. "Canadians don't like this!".
The first time, I had a real fight on my hands. In other restaurants, I have been flatly refused or told they couldn't make it. Now, 20 or so years after successfully ordering this dish in the Flourish Restaurant, the Flourish Lady (as I've always called her) still gives me the run around. She tries to talk me out of it, even after she has yelled my order to the back kitchen!
Every time, for decades. Our bit of fun.
Oh, and Helena? Another scanned image I put in my journal from those days is this one:

Today's Listening:
1. Wouldn't It Be Loverly by Diana Panton
2. I Wish We Had Our Time Again by John Hartford
3. Made in Japan – Gojo Ohashi Bridge by Amos Garrett
4. Can I Make It Last (Or Will It Just Be Over?) by Boz Scaggs