This may be the last perfect day of summer. Of the warm season. I'm sure it will be.
This is not a hot summer day, it's not a fall day. It's a transition day.
And today is Monday, a beautiful day that doesn't get me down. Not like it did for Paul Williams who wrote the lyrics to the song or Karen Carpenter who sang it.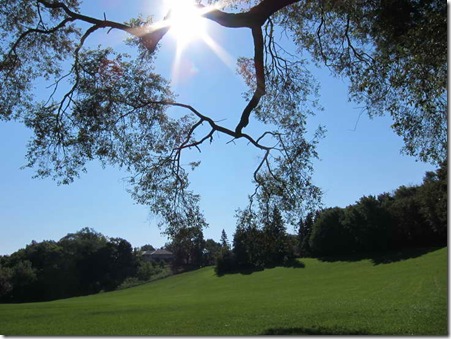 But if it's rainy days we're talking about, then it has to be Tuesdays.
Because every Tuesday this summer it's rained. Just about.
I checked: 15 out of the last 18 Tuesdays since May 22 it rained.
And every Tuesday, I go to a place in the country to write. Here it is: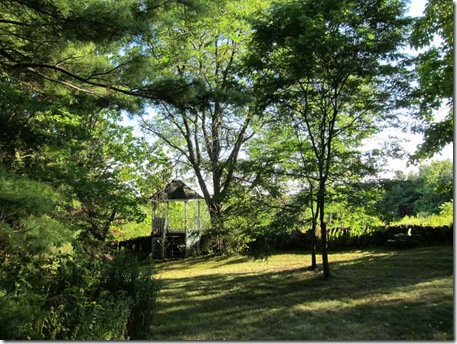 (picture not taken on a Tuesday)
I've been going there for about 5 years.
It hasn't always been Tuesdays, but it became Tuesdays on a regular basis when I started having a weekly appointment on Tuesday mornings.
I was living in the burbs and my appointments took place in the next abutting burb town. From there it was an easy scenic drive up to my friend's country home, and 10 acres of fields and wild critters. And quiet.
Up until this summer, I would sit and fry in the sun, preferring to sit on the steps of his deck. I could just spread my notebooks, pens, stuff, out there better.
But this summer – rain. Almost every Tuesday.
Often the only day of the week.
I'd look at the weather channel and see the next seven days all represented by little orange suns – except one. A little grey cloud with cute drops falling from it, and the word: Tuesday.
That's ok. I can be happy inside with a moody view of the trees and fields in their grey tones.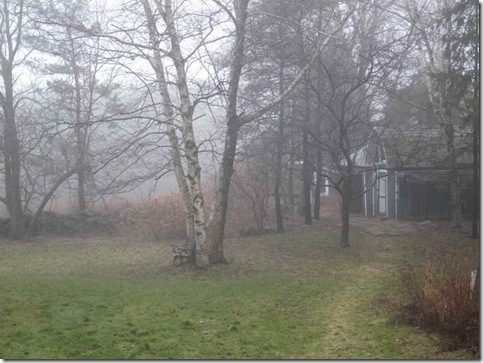 It's very cozy. Just like winter. Not being able to sit outside and having no distractions, I am sitting Inside trying to get stuff Out.
I'll make my own Outside.
It only gets a bit awkward when the cleaning lady comes. Then, I either have to move around with my materials – table to sofa to an outbuilding that is sheltered.
That still means a walk in the wet to reach it – and a walk back.
It's not so bad as I write longhand and don't need electricity.
My only activity outside is taking pictures of moss.
It's become something of an obsession. The family pieces, bits, of moss on the rock fence in the back are like my pets. (Ghia pets?)
What do you call a grouping of moss? A clump, a cushion, a mat.
The upside of the rain is the almost instant explosion of moss,
emerald (in cloud, on Tuesdays):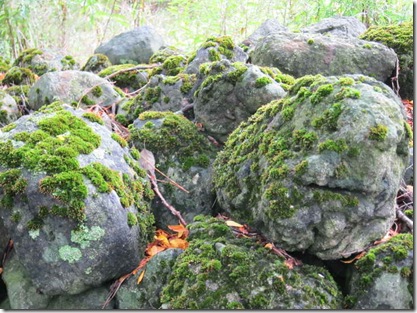 and peridot (in sun):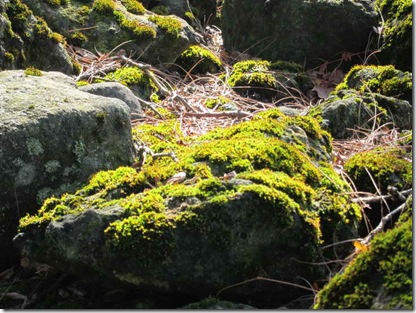 I feel like I need to have a word with Nature.
Could we schedule the rain for a different day of the week?
I was checking my Daytimer, and it says it's time to order a new refill.
Since when did Nature use a Daytimer?
Well.
I'm going out there tomorrow and it's supposed to rain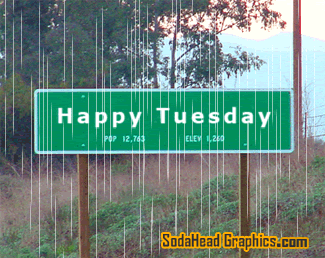 Today's Listening:
1. Rainy Days and Mondays – performed by Pat Metheny from the CD: "What's It All About"
2. Long Hot Summer – The Style Council
3. Before the Rain – Lee Oskar
4. Garden in the Rain – Dan Hicks from the CD: "It Happened One Bite"
5. Antonio's Song (The Rainbow) – Michael Franks from the CD: "Sleeping Gypsy"
6. The Gentle Rain – Astrid Gilberto from the CD "Verve Masters 9"