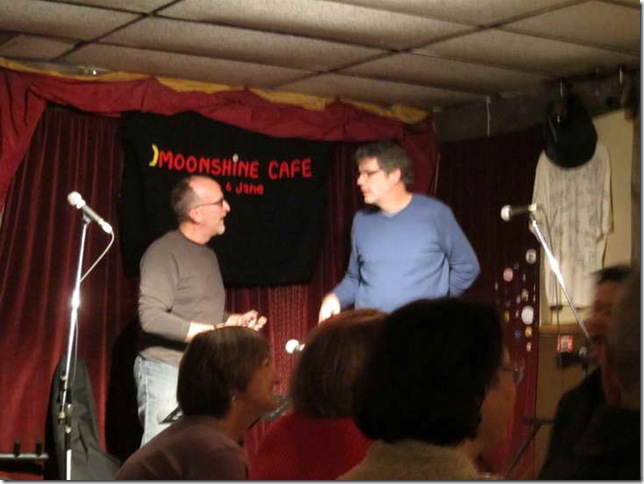 It happens every so often that I catch up with some old friends from the heyday of my CBC Radio Comedy days.
On Thursday, I got a message from comedy writer extraordinaire, Tim Burns, that he and Peter Wildman, of Frantics fame, were going to be at my favourite out-of-town club: The Moonshine Cafe in Oakville. The next day, Friday, tomorrow.
I get all emotional at these all-too-rare get-togethers. I don't know about the other guys but it always seems we didn't know what we had back in the days when we were too busy scrambling and learning and nervous to know this is what we'd always miss.
That's enough nostalgia for me, but not, apparently, for the audience tonight.
Well before the fully-booked audience packs the room, long-time fans of Peter (and the Frantics) start to drift in. Some I know from the radio taping days, some have become fans since. People who have come to the fold only in the last couple of years when Peter has been doing solo performances and a few Frantics reunions.
One fellow asked me if I knew Peter. "You might say that", I replied. Being their radio producer since 1981 qualifies me. I hear kids discussing their all-time favourite Frantics sketches, debating when they were first recorded. I don't go over and straighten them out.
Tonight, Peter's show is billed as his "Christmas Show" and over the years he has amassed a lot of Christmas songs and sketches. Much of tonight's material is from Peter's 30 year repertoire. Backing him up is Tim Burns on synth and electric guitar.
Tim is, in my opinion, an unheralded genius of comedy. Maybe one time in a career you get a chance like we had in 1989. My boss had one day said to me: "Ok, make the show you always wanted to make". And the first thing I did was to pick up the phone, called Tim and say: "Ok, write the show you always wanted to write." Trust who you hire and get out of their way.
It was well placed trust. The resulting show Six Days That Shook The Walt, won the gold medal at the New York Festival of Radio.
So, somewhere along the line, Pete and Tim started working together. And decades later, here they were at the Moonshine.
Great place. Great show. Great guys.
Today's Listening:
1. Do It For The Money – Peter Wildman
2. Cigarettes and Chocolate Milk – Rufus Wainwright
3. Stoned Soul Picnic – Laura Nyro
4. Invitation – Cal Tjader